Scholarships
Government of Madhay Pradesh SC, ST, OBC, General Category (Minority Scheme) & Mukhay Mantri Meghavi Yojna Scholarship are available for eligible Students of this College
Required Documents:-
Attested copies of Following Documents with one Passport size Photo graph are required with the completed Application Form Download from the portals (M.P Scholarship portal 2.0 & National Scholarship portal)
Marksheets of 10th, 12th & all the mark sheets of Passed examination of all previous year
Transfer certificate ( for new admission)
Digital Cast Certificate ( Xerox Copy)
Digital Domicile Certificate (Xerox Copy)
Digital Income Certificate (Xerox Copy)
Adhaar Card (Xerox Copy)
SSSM ID (Samagra Id Xerox Copy)
Xerox copy of the Printed passbook (Saving Account)
KYC & Mobile no must be linked with Bank
Gap Certificate ( in case of gap during studies)
Voter Id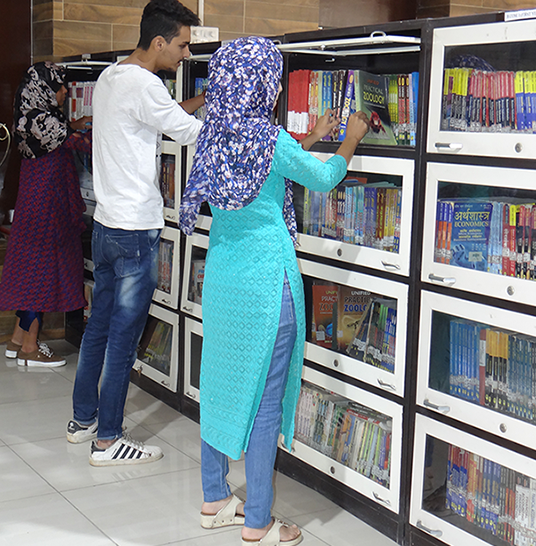 Library
Saifia College has a very spacious and rich library with all modern facilities available. It provides following facilities to students, staffs and Research Scholars
Study room provided for students.
Separate seating provided for staffs and research scholars in study room.
Facility of subject and general encyclopaedia in the library for students, staffs and research scholars.
Reference section for study.
Arrangement for reading periodicals and news papers.
Books issue and return facility for staffs and students.
Library Automation facility.
Facility of General and Departmental library for graduate and post graduate students.
Availability of books of various topics such as Maths, Physics, Chemistry, Botany, Biotechnology, Zoology, Microbiology, Education Literature etc.
A collection of about 22,000 books is available.
American Center For Library Saifia College Bhopal.
A Large number of books from The American Counsulate General Mumbai were donated to Saifia College Library on 4th Sept 2004, by Mr. Angus. T.Simmons US Counsulate General Mumbai. This Section has large number of Books, Journals and Periodicals of American Literatures, History, Sociological Science, Economics and Other Subjects.
National Service Scheme (NSS)
National Service Scheme(NSS) is being run by The Govt Of India under the Jurisdiction of Barkatullah University, Bhopal. This is a Scheme meant for the development of the Personalities of the Students through the social work in the society.
In Saifia Science College the N.S.S was started in 1978. Since then this scheme is being run successfully.
Umpteen District National Camps in Rural and Urban areas have been organised with thousands of NSS Vounteers of this institution. The Students remain involved in different Social Activities such as blood donation, cleanliness, adult education, vaccination, health awareness, counselling in women and children for disease protection, enhancing devious to increase fertility of soil in fields etc.
The activities in the College Campus are also performed to enhance the personalities of the students/volunteers envolved.
Dr. Jawed Ahmed Khan  is the programme officer and Professor Faisal Ahmed is the Asstt, Programme Officer of the NSS. They are escorting the students for achieving their goals.
Seminar Hall/ Lecture Halls
Spacious halls with more than 500 seating capacity
Modern PA system with projectors
Uninterrupted power supply