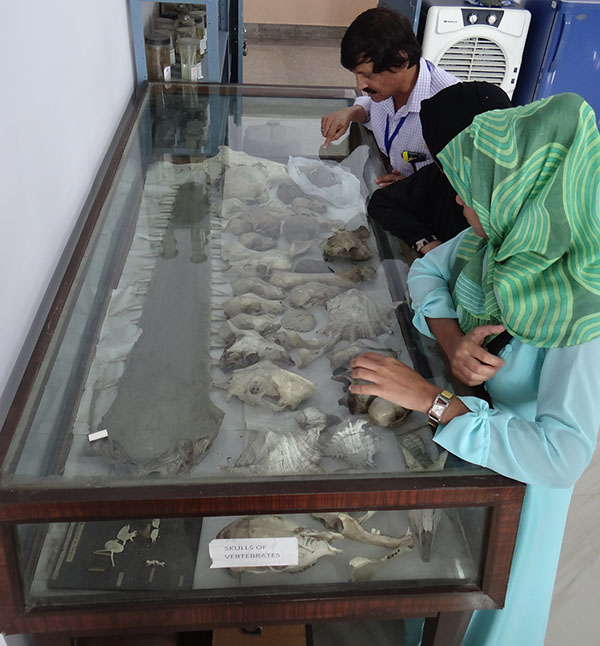 About the Department
The Department of Zoology was established in 1969 in SAIFIA COLLEGE, Bhopal by The SAIFIA EDUCATION SOCIETY.
It had 15 Professors. teaching and performing research in various fields of Zoology.
Many Conferences, Symposia, Seminars and workshops have been organized from time to time by the department.
Well established Library with modern devices available at the reach of the students.
The Departmental library comprising of about 1200 books is being used by the staff and the students.
Well equipped laboratory for performing experimental tasks, practicals and animal museum of high standard is also existing.
Well qualified staff for undergraduates and post graduate students is always available.
Modern Audio-Visual-Aids are in use in the department.
Net and Computers are available to enhance the updated knowledge.
Reading materials, notes etc. are made in reach of the students, when the occasion arises.
Excursion tours are also organized to enhance the practical knowledge of the subject to the students.
Courses Offered
Zoology Department offers B.Sc. Course. Zoology is one of the subjects of combinations in Biology.
B.Sc. in Aquaculture and Environment is one of the subjects of combinations in Biology.
It offers M.Sc. in Zoology with the specializations in Ichthyology (Fish and Fisheries), Cytogenetics. and Environmental Biology with wild life management.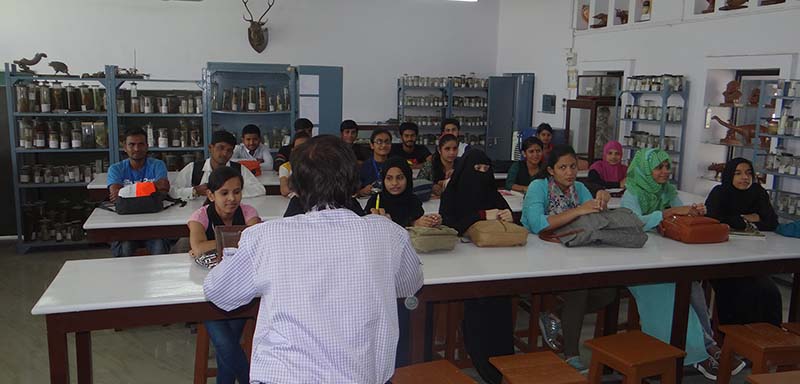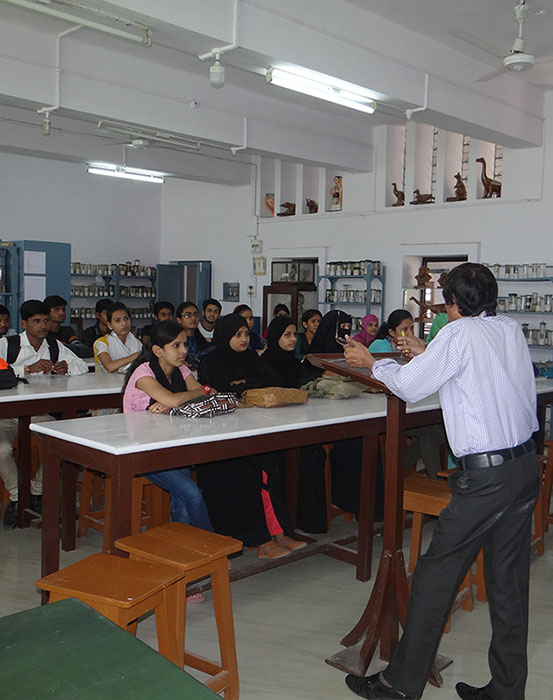 Achievements Of The Zoology Department
The department of zoology has produced more than 60 Ph.D. degrees in Zoology (Reproductive Biology Environmental Biology, Helminthology, Entomology, Ichthyology, Endocrinology, Cytogenetics, Embryology, Herpetology, Avian Biology and Physiology etc.)
About 700 Research Papers have been published by this department in various National and International Journals of repute.
In Zoology, highly qualified 15 professors were involved in Research, teaching and academics.
8 National and 8 International conferences/ seminars/ symposia/ workshops have been organized successfully.
An exotic and prestigious Project PL-480 was sponsored by the U.S. Department of Agriculture, UNITED STATES OF AMERICA from 1985-1990 This Project was successfully handled and completed by DR. SHARIQUE ATHAR ALI, Principal, Saifia Science College, Bhopal. Its findings were of great importance and were recognized and praised by the Govt. of India and Madhya Pradesh Govt. and suggested to implement its results in the scientific world.
About 16 projects of Science and Technology sponsored by various agencies have been completed by the staff of Zoology Department.
Two National journals were published by this department.
Well equipped laboratory with modern devices, instruments, articles exists.
Well established Departmental Library with Latest books of different fields of  Zoology exist.
Department has also introduced a Degree Course of Aquaculture and Environment at the undergraduate level, under the Scheme of Restructuring of courses by UGC, New Delhi in 1981. Now it is running successfully.
Placement Record Of Zoology Department
R.J. Rao, Vice Chancellor, Barkatullah University, Bhopal.
Tariq Zafar, Former Vice Chancellor M.P. Bhoj Open University, Bhopal.
Ravi Yodha, Regional Director, M.P. Bhoj (Open) University, Bhopal.
Q.J. Shammi, Prof. Govt. College, Harda (M.P.).
Renu Rai, Director, Samadhan Computer Academy, Bhopal.
Salma Raoof, Prof. of Zoology, Rani Durgawati University, Jabalpur (M.P.).
Rabia Sultan, Prof. of Zoology, Bhopal.
Sabir Husain, (U.S.A.).
Yusuf, (U.S.A.).
Gulzar Ahmad. N.G.O. Kota (Rajsthan).
Raman Sharma, Retd. Principal, P.G.B.T, Bhopal.
C.S. Dangi, Dean Science, RKDF University, Bhopal.
Satyendra Khare, Director AISECT, Bhopal.
Jaya Peter, Principal, Sha Shib College, Parvalia, Bhopal.
Neeraj Bundela, Scientist iii EPCO Bhopal.
Aabida Qureshi, Prof. of Zoology, Govt. Holkar Science College, Bhopal.
Vijay Sharma, Prof. Zoology Saifia Science College, Bhopal.
Saleha Khan, Principal, Saifia School, Bhopal.
P. Padman, Bhopal.
Parveen, Bhopal.
Qamar, Bhopal.
Parveen Alvi, Bhopal.
Shama Khan, Former Principal, Cambridge School, Bhopal.
Abdul Haleem Khan, Prof of Zoology,Bhopal.
Tahir Ali Najmi, Prof. Zoology, Bhopal.
Mahendra Joshi, Director Personality Research Center, Bhopal.
Arvind Sharma, Director Forensic Research Laboratory, Bhopal.
Shafqat Mohd. Khan, Prof. of Zoology, Bhopal.
Sudha Singh, Prof. of Zoology, Bhopal.
Rajesh Sharma. Pharmacological Specialist Bhopal.
Azhar Qureshi, Prof. of Zoology, Bhopal.
Shahid Azhar, Prof. of Zoology, Bhopal.
Kiran Tiwari, Officer, Board of Secondary EDUN. Bhopal.
Saleha Khan, Prof Of Zoology, Madan Maharaj College, Bhopal.
Asha Malhotra, Prof of Zoology, Bhopal.
Mahesh Sahu, Corporator, M.P. Municipal Corporation, Bhopal.
Savita Tyagi, Principal, Kilol H.S.School, Bhopal.
Abdul Shafeeq Khan, Lecturer, Saifia School Bhopal.
Ismail Qureshi, Director, Dimension School, Bhopal.
Shakeel Khan, DFO Raipur. (C.G.).
Sandeep Fellows, DFO, Forest Deptt. Bhopal.
Praveen Shrivastava, Sub Editor Patrika, Bhopal.
Javed Khan, Editor Evina Media, Bhopal.
Neelu Qayyumi, Sam College, Bhopal.
Neelofar, (England).